The most important things couples need to think about (and sometimes forget!) when it comes to an outdoor wedding ceremony.
Celebrant's perspective
Outdoor wedding ceremonies are fantastic. The setting is often a 'blank canvas' and can be styled to suit the couple's wishes; they are often in picturesque locations and can create a great ambiance for yourself and your guests. There are however pitfalls if careful planning is not considered. The following tips will have you celebrating your special day without stress in no time:
Tip 1: Always have a back up venue for inclement weather.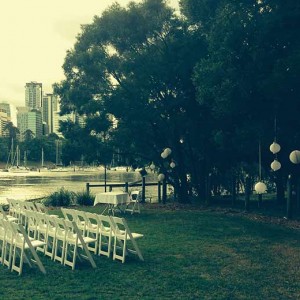 Although you may have picked a September wedding date because the weather is traditionally well behaved, sometimes things just don't go to plan. The most logical back up is your reception venue, however they will need to know early on the day of the wedding if you will be changing locations so it is a must to have this planned before hand.
Your guests also will need early warning on the day; and don't forget to let your Celebrant know the location change as well! Most Celebrants have it written into their contract that you must have a backup venue for outdoor locations.
Tip 2: The time of day.
Although 3pm on a Saturday is a popular time for weddings if it summer, 3pm can still be very, very hot. Consider the comfort of your guests that will be sitting outside for a least a half hour before the bride arrives – not to mention if she is late. Having bottled water for your guests is a great pick-me up for guests in all their 'finery'. Another point to consider in relation to the time of day is where the sun will be facing. Squinting brides and grooms or shadows can play havoc for your photographer, not to mention give you a headache. And depending on your time of day, don't forget to slip, slop, slap. You don't want to start your honeymoon with bad sunburn or a strappy tan line.
Tip 3: Footwear.
Not many people think of this important factor for an outdoor wedding ceremony but believe me, after performing hundreds of outdoor weddings – appropriate footwear is a must. By appropriate I mean a wedge or thick heels for grass locations, closed in shoes or barefoot for the beach and flats for those rocky outcrops. Even if the evenness of the ground has been considered, I have seen many a bride come unstuck whilst walking up a bamboo or cloth aisle in stilettos. On the upside it does make for some funny photographs!
Tip 4: Dressing for the season.
You may have been dreaming of a Disney princess wedding gown or the groom in a 3-piece suit, however the time of year and the Australian climate will most likely dictate what you choose to wear for an outdoor wedding. I've seen grooms faint and brides have vain attempts at stopping the sweat from dripping down their legs under their fully lined satin gown. So save yourself from having to say 'I do' with a puddle at your feet and choose an outfit to match the season and location.
Tip 5: Do you want to be heard?
It is a legal requirement that yourself and your guests can hear the ceremony. That is why you always see a Celebrant with a microphone. One location that always plays havoc with this, however, is the beach. Even the best audio equipment has its limitations when there are gale force wind gusts, not to mention the sand in your eyes! Have fun! With some careful planning your outdoor wedding can be stress free and everything you have dreamed of and more. I would love to have a chat about your upcoming wedding ceremony. I have plenty more tips to help make your day a success. Krista Webb CMC Celebrated Moments 0417 626 791 www.celebratedmoments.com.au Krista@celebratedmoments.com.au www.facebook.com/BrisbaneWeddingCelebrant